Digital Technology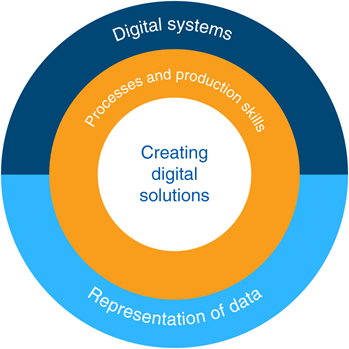 Digital technologies impact on every aspect of our lives and are vitally important to New Zealand?s growth in the 21st century. Information is the basis of governmental, scientific, commercial and industrial institutions, and of all disciplines of study. Students in New Zealand need opportunities to develop knowledge and skills with digital technologies so they are equipped to respond to rapid changes in our society.
Digital Technologies are applied in most aspects of modern day human endeavor, at the same time the techniques of digital technology owe their existence to a wide range of disciplines which include business, commerce, linguistics, physics, psychology, communications, engineering and mathematics. Courses in Digital Technologies offer the development of knowledge and skills using a wide range of exciting Internet and computing technologies. The courses are designed to ignite a passion for digital technologies, and to lead students into a rewarding and fulfilling future and further studies.

Digital Technologies Courses include:

Digital Citizenship:
This strand includes: etiquette, communication, literacy, access, commerce, law, rights and responsibilities, health and well being (text entry skills and safe working practices) and security (self-protection). Explores the impact of digital technologies on society and builds to discussing, analysing, and comparing digital solutions for contemporary issues.
Digital Information:
This strand includes: computer functions, file management, computer applications and applying digital information skills. Focuses on the use of productivity software and the use of digital technologies to support everyday life.
Digital Media:
This strand encompasses a number of different areas of knowledge, such as web design, interactive media, animation, and graphic design. Students would be expected to produce solutions that communicate effectively through one or more digital media applications. It
includes: the characteristics of digital media, tools and techniques, applications, design elements and principles, procedures ethical consideration and the integration of digital media types.
Computer Science and Computer Programming: This strand is about learning the tools and techniques of logical thinking, technological modelling and problem solving to produce a solution to a technological problem. This will involve the designing, planning and writing of programmes and applications to solve a problem.
Courses in this Learning Area
Accountant, Accounts Officer, Advertising, Auditor, Biomedical Engineer, Business Analyst, Computer Support Technician, Contact Centre Worker, Data Entry Operator/Transcriptionist, Database/Systems Administrator, Electronics Engineer, Energy Auditor, Financial Adviser, Financial Dealer, Game Developer, Helpdesk/Support Technician, Information Technology Architect, Information and Communication Technology Manager, Loss Adjuster, Management Consultant, Manager Marketing, Mortgage Broker, Network Administrator, Network Engineer, Procurement Manager, Production Manager, Programmer, Real Estate Agent, Sales and Marketing, Software Architect, Systems Administrator, Telecommunications Engineer, Tertiary Lecturer, Test Analyst, Web Designer, Web Developer, Website Administrator,